Backgrounder
Hummingbird Dental
10376 Yonge St #202
Richmond Hill, ON
L4C 3B8
Website: hummingbirddental.ca
Phone: 905-237-7976
Cell: 437-995-0592
Dr.BT Dentistry Professional Corporation (Hummingbird Dental Office) was established in 2012, Dr. Taghizadeh opened his own office where he provides comprehensive care to patients. His goal is to provide quality dental services while maintaining a friendly atmosphere. He believes that patient education should always be the first priority.
Dr. Taghizadeh is a member of the Canadian Association of Oral Surgeons (CAOS), the Ontario Dental Association (ODA)and the Royal College of Dental surgeons of Canada (RCDSO). He is certified by the International Congress of Oral Implantologists (ICOI). Dr. Taghizadeh has published several articles in peer-reviewed journals. He also served as an adjunct professor for the Department of restorative dentistry at several international Universities.
Mission Statement
Most of their patients say that they want affordable dental care that fits into their schedules. As general/family dentists, they are committed to staying in touch with their patients and adapting the way in which services are provided to their wants and needs. As such, their mission is to help their patients achieve optimal oral health by offering high-quality care and education on a regular basis.
A Full-Service Dental Clinic
Hummingbird Dental Clinic offers comprehensive care for patients who need general dentistry, cosmetic dentistry, periodontics, endodontics, oral surgery, orthodontics, prosthodontics, pediatric dentistry, and implantology. They offer a full range of procedures including teeth whitening, crowns, veneers, implants, root canal therapy, gum disease treatment, and much more. Every member of the team and staff is dedicated to providing quality service and compassionate care to their patients. They take pride in being able to deliver top-quality care in a comfortable environment.
Leadership
Dr. Taghizadeh and the Hummingbird Dental team consistently perform high-quality services at an affordable cost. The clinic's major purpose is to make all patients feel comfortable and the patients' smiles tell it all. They specialize in a wide range of dental procedures and undertake most treatments in-house, thus reducing referrals. Same-day emergency dental appointments, pediatric dentistry and Saturday and Sunday appointments are also available.
Providing Stellar Quality Service
The overriding protocol at Hummingbird Dental is to give the patients what they want. The customer service staff is renowned for their work and aim to serve the patients in the best way possible.
To this end, the convenient clinic hours are as follows:
Dental Clinic Hours
Monday: Closed
Tuesday: 10 AM – 7 PM
Wednesday: 10 AM – 6 PM
Thursday: 10 AM – 6 PM
Friday: 8 AM – 5 PM
Saturday: 8 AM – 5 PM
Sunday: 9 am-5 pm
A One-of-a-Kind Dental Clinic
Consistent communication between the patients and the clinic is paramount to the success of care. Hummingbird Dental always welcomes feedback from their patients. They are particularly interested to know about ideas for improving the patient experience. Of course, hearing what they are doing well encourages more of the same.
The History of the Company (A decade of excellence)
Dr. Behrooz Taghizadeh Dentistry Professional Corporation (Hummingbird Dental Clinic) was established a decade ago. Dr. Taghizadeh graduated from University of Western Ontario Faculty of Dentistry in 2012. He completed his BDS at MMU in 1999. After completing his BDS he had a successful private practice in Dubai UAE, after which he moved to Canada and did another 2 years diploma catered to gums. He received his license to practice Dentistry in Ontario in 2012. Since then, he has been practicing in several areas of GTA but finally dedicated his full time to practice in Richmond Hill, Ontario.
Major Awards and Recognition
Hummingbird Dental clinic was recently voted the "Top Choice Dental Clinic of 2022 in Richmond Hill" establishing it as a leader in the community. While taking pride in their high-quality dental services, they intend to continue promoting excellent oral health habits throughout the city to make dentistry available and accessible to patients of all ages.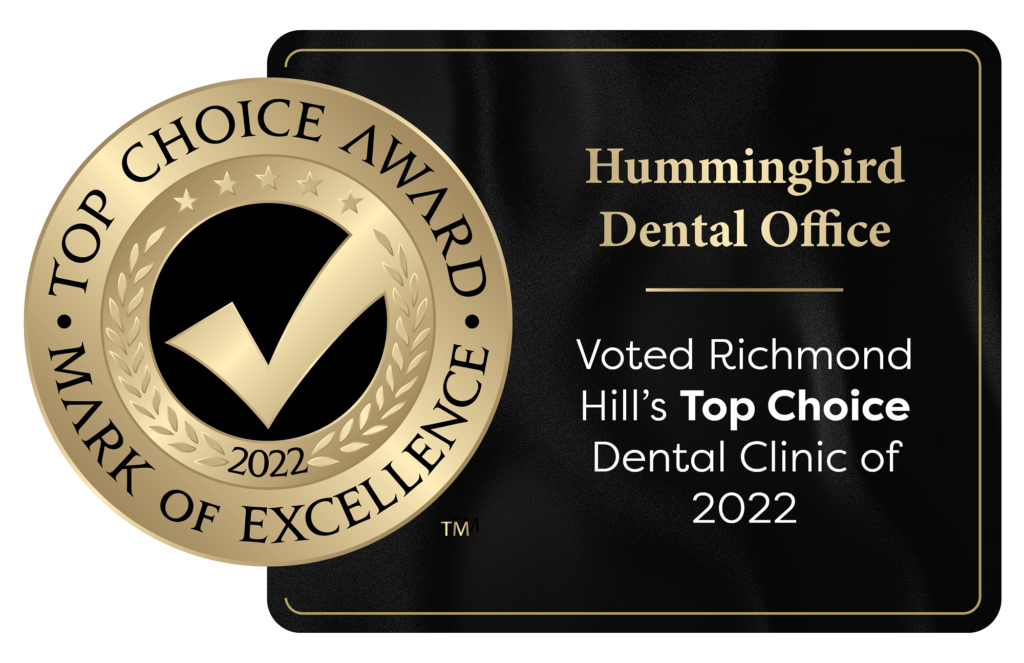 Being a proficient and extensively trained dentist who is dedicated to providing professional dental care procedures while utilizing state-of-the-art equipment and supplies, Dr. Behrooz Taghizadeh is widely recognized across Richmond Hill for helping hundreds of patients of all ages regain their smiles and confidence.
Sharing the Vision
Hummingbird Dental Clinic provides excellent oral care. Their competent dentists have seen the benefits of good dental health for the lives of their patients. They provide excellent patient care while maintaining consistently high standards.
Every patient's dignity is respected. That includes creating a comfortable environment with friendly, responsive staff. To ensure that their therapies are effective, they employ the latest technological advances in oral care.