The Best Dentist for You
To find the best dentist to attend to your needs, it is important to know that there are two main types of dentists: general dentists and specialists in orthodontics. While a conventional dentist is trained to treat cavities, an orthodontist is specifically trained to straighten teeth.
In order to find the right care, first identify your therapy goals. You need to decide if you want braces, veneers, Invisalign, or nothing at all, and how often you want to go to the dentist.
Then, you will want to look for a dentist who is compatible with your way of life. Find a dentist who is willing to spend time with your children if you have them. It's important to feel at ease when visiting your dentist. Seek personal recommendations, study online reviews, and familiarise yourself with the extensive information provided on the website.
Qualities to Look For
Having a deep understanding of dental anatomy and physiology is essential to being a good dentist. They should also be able to diagnose problems quickly and accurately. Endodontics, periodontics, and prosthodontics are some of the more specialised areas of dentistry that they should be familiar with.
It is essential that the dentist has the ability to treat patients of all ages with a wide range of dental needs. Working with both youngsters and adults is a must. He or she should also have a strong sense of empathy and be patient-centered.
Look for Convenient Business Hours
At Hummingbird Dental Clinic, we know that your time is precious. Our service hours have been designed to make it as convenient as possible for you and your family to attend appointments.
Our clinic hours are:
Sunday and Monday: Closed
Tuesday: 10 AM – 7 PM
Wednesday: 10 AM- 6 PM
Thursday: 10 AM – 6 PM
Friday: 8 AM – 5 PM
Saturday: 8 AM – 5 PM
Explore the Options for Service
In addition to providing general medical treatment, dentists also do specialise dental procedures such as fillings, crowns, root canals and gum surgery.
They may also conduct cosmetic operations, such as teeth whitening, veneers, and implant placement.
Patients frequently seek advice from their dentists on how to stay healthy in the long run, including scheduling regular examinations and cleanings.
Choose a Waiting Room That Is Comfortable
It's important that a patient waiting room has a calm and soothing ambiance. It's important that the room doesn't feel excessively bright or too dark.
Patients should be able to sit down and relax in the waiting area. Other types of furniture can be included in this category too, such as chairs and couches. Magazines, newspapers, books and other reading material should be available to patients in the waiting area.
The waiting area should be decorated with a wide range of artefacts. The purpose of art in a room is to reduce stress and stimulate the senses. In this case, artwork representing natural landscapes, landscapes, still life, abstract art, and even portraits could be employed.
A television or radio station playing soothing music in the waiting area is a good idea if possible.
Check the Dentist's Credentials
Having a well-trained dental team and staff is essential for a high-quality dental office. It should also have a pleasant working atmosphere. The tools utilised should be state-of-the-art and up to the most stringent safety requirements. All of these aspects play a role in ensuring that patients have a great dental experience.
Hummingbird Is the Best Dental Clinic in Richmond Hill
Winning the Top Choice Award 2022 for Best Dental Clinic in Richmond Hill confirms that we are leaders in our community. Our patients have overwhelmingly agreed that our staff provides a warm and welcoming atmosphere.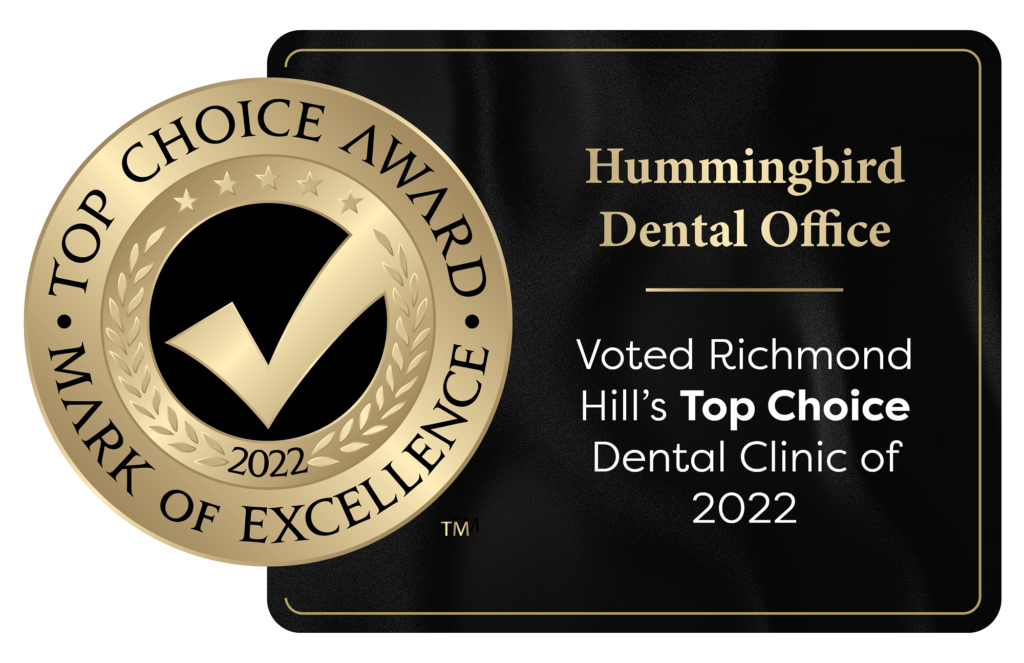 One patient in particular remarked about our informative and gentle dentist who explained every step of the way and why each service was being done. It was reported that the dentist stands by his work, ensuring patient satisfaction.
It can be said with authority that the dental team and staff at Hummingbird Dental Clinic fulfills the requirements of those looking for high-quality dental care for themselves and their families.
Clearly, Hummingbird Dental Clinic is the ideal dentist Richmond Hill offers. We invite you to call our office for an appointment so that you may experience excellent dental care for yourself. Our phone number is (905) 237-7976.
Alternatively, we can be reached through our website (hummingbirddental.ca) by choosing our handy appointment form on the home page or the Get In Touch form which can be found on the Contact tab. We look forward to serving you and your family!