Experienced dental implant specialist
Top-of-the-line dental tools
Successful dental implant treatments in Richmond Hill
Free consultation available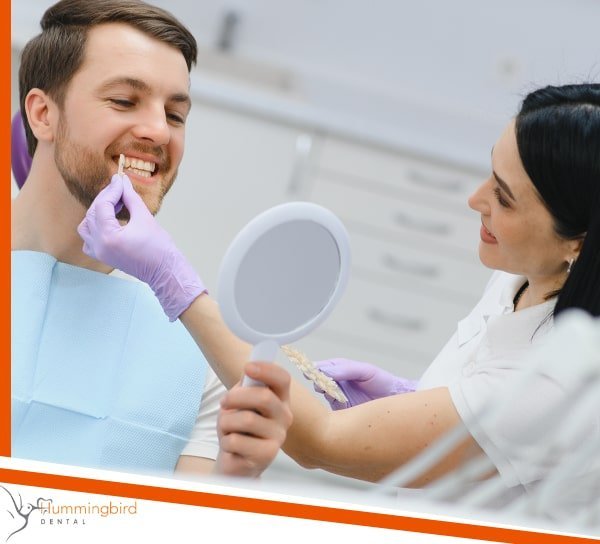 Top-Notch Dental Implants in Richmond Hill
Welcome to Hummingbird Dental Clinic, a fully equipped dental clinic specializing in dental implants in Richmond Hill. If you're currently dealing with the issue of missing one or more teeth, there's no need to be concerned any longer. Our team is here to offer you the necessary support and solutions. With our extensive experience and specialized knowledge, it is not an exaggeration to state that Hummingbird Dental is at the forefront of dental clinics renowned for providing exceptional dental implant services in Richmond Hill and the surrounding areas.
In Need of Dental Implants in Richmond Hill?
At Hummingbird Dental, we take great pride in our team of highly experienced oral surgeons and dental implant specialists in Richmond Hill who are deeply committed to providing exceptional care. Our primary objective is to assist you in achieving your desired smile and optimal oral functionality. When you visit our clinic, we conduct a comprehensive initial examination to ensure that Richmond Hill dental implants are the perfect solution to address your specific needs and deliver the outstanding results you deserve. To schedule an appointment with our highly-skilled dental implant specialist in Richmond Hill, contact us right now.
What Are Dental Implants?
Dental implants offer the most advanced and effective solution for replacing missing teeth. They closely replicate the natural look and functionality of a real tooth. These cosmetic dental treatments, like natural teeth, consist of two parts: the portion beneath the gum line and the visible portion. A small titanium implant post is implanted into the jawbone and provides a stable foundation. After the process of the implant's integration with the jawbone, our experienced dental implant specialist in Richmond Hill will affix a custom-made dental restoration to the top of the implant post. This restoration, which can be a crown, dentures, or dental bridge, is meticulously designed to match the appearance of your natural teeth and gift you a sparkling smile.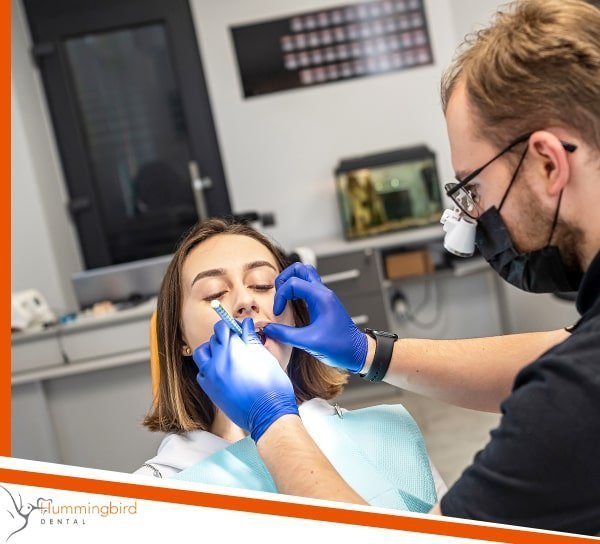 The Benefits of Dental Implants
The Richmond Hill dental implants provided at Hummingbird Dental Clinic bring valuable health benefits, including natural aesthetics and functionality, a secure fit, convenience with minimal maintenance, preservation of oral health, potential orthodontic benefits, and additional advantages. These benefits make dental implants an attractive option for those seeking a long-term, natural-looking solution for their dental needs.
FAQs Answered by Our Dental Implant Specialists
Hummingbird Dental is committed to delivering patients quality care and peace of mind. Our experienced team believes in transparent communication and strives to address all concerns about our dental implant services in Richmond Hill. To facilitate this, we have prepared a comprehensive list of frequently asked questions to provide the necessary information. If you have a question that is not covered in the list, please feel free to contact us.
Is the dental implant process always successful?
The success of dental implant surgery depends on important factors such as the patient's overall health, the condition of the jawbone, and their commitment to maintaining good oral hygiene after the procedure. Our experienced dental implant experts in Richmond Hill employ advanced techniques and approaches to assess your suitability for dental implant surgery, enhance your chances of a successful outcome, and prevent emergency dental problems.
Are there any risks with dental implants?
As mentioned earlier, dental implants are generally safe and have a high success rate but come with certain risks. Potential risks include infection, nerve damage, sinus issues, implant failure, and bone loss. It's important to discuss these risks with our highly-trained dental implants specialist in Richmond Hill and address any concerns you may have to minimize the potential risks associated with this cosmetic dental procedure.