Hummingbird Dental is a Top Choice Awards 2022 winner
We owe a huge debt of gratitude to our patients who have supported our success for many years. A special mention goes to those who took the time to vote for us during the recent awards campaign. Winning the Top Choice Award 2022 for Best Dental Clinic in Richmond Hill confirms that we are leaders in our community. It is our pleasure to serve the fine residents of Richmond Hill and their families.
The Top Choice Awards promotes business excellence and, as winners of this year's award, Hummingbird Dental is pleased to continue providing high-quality dental care to our patients. Participating in the Top Choice Awards allows us to reach new patients with the aim of providing them with the same level of care that our loyal patients receive with every visit.
We take pride in our dentists and staff
Our commitment to providing the highest levels of service and care will take us into the future. Dental care is an evolving science, and it is our mission to invest in people, equipment, and education so that our patients receive the best care possible. The helpful, friendly, and experienced staff at Hummingbird Dental are thrilled to be recognized for their hard work and dedication to our patients. We are proud of the team we have built, the relationships that have been formed, and the hundreds of patients and their families who have been helped.
Hummingbird Dental is a full-service dental clinic whose experienced dentists are devoted to the care of our patients. We offer a wide variety of preventative, restorative, and cosmetic services to patients of all ages. Our stellar customer service is beyond compare and our patient care is unparalleled.
We put our patients first!
By voting for us to win a Top Choice Award, it shows that you agree. We also appreciate that our patients refer their friends and family members to us so that we can demonstrate the same level of care to them as well.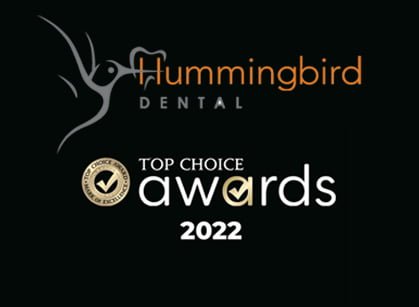 If you have not yet taken the opportunity to visit our clinic for high-quality care, we invite you to contact us. For more information or to arrange for a consultation or care please feel free to call us at (905) 237-7976. Alternatively, our website, hummingbirddental.ca, hosts a text chat feature that is available for your convenience. We are open Tuesday through Saturday with extended hours to meet your needs. It is our pleasure to respond to all inquiries.
About the Top Choice Awards
Top Choice Awards collects and reviews the opinions of thousands of customers annually in 28 markets across Canada and USA. The results of those studies are used by companies to improve customer satisfaction and business development while their social promotion system gives customers the power to enjoy awesome experiences by making educated purchase choices. It is the most spoken about, followed, liked, and shared business award in North America.