Gentle Dental Care in Richmond Hill
When our clients are asked about why they prefer the Hummingbird Dental Clinic over other clinics, they overwhelmingly agree that there are three main reasons:
Same day emergency dental appointment availability
Ease of booking appointments, especially on Saturdays
The honesty and care taken by our dentists
Emergency care – See a dentist the same day!
If you do encounter a situation where emergency dental care is required, please call us right away at (905) 237-7976. We will do our best to provide rapid service.
Hummingbird Dental is a full-service dental clinic in Richmond Hill that helps people from all over the Greater Toronto Area with dental emergencies. At our clinic, we take care of people with common dental emergencies, such as swollen faces, broken teeth, mouth injuries, or dental pain.
We have extended business hours to make dental care more convenient
We are open from 8 a.m. to 5 p.m. on Saturdays. Bookings can be made by calling the clinic or online (at www.hummingbirddental.ca/book-online).
Dental Clinic Hours
Monday: Closed
Tuesday: 10 AM – 7 PM
Wednesday: 10 AM- 6 PM
Thursday: 10 AM – 6 PM
Friday: 8 AM – 5 PM
Saturday: 8 AM – 5 PM
Sunday: Closed
Jennifer D. has told us, "The dentist I have followed from Scarborough to see here is worth every km of the drive to get to! He is kind, patient and understanding. His work is second to none, he always makes me comfortable and stands by his work ensuring patient satisfaction even if it requires extra time. I know I am in good hands."
Joan T. shared, "Their priority was to take care of my teeth efficiently but with as much care and kindness as possible."
Alexander A. commented, "Very nicely designed office has friendly and knowledgeable professionals. Hummingbird Dental is a five-star place with a friendly, family like atmosphere. I came here for an alternative doctor's opinion and got the best explanation of my case and suggested treatment plan. I highly recommend this office!"
Hummingbird Dental provides the best care in Richmond Hill
Our patients chose Hummingbird Dental as the best dental clinic in Richmond Hill for 2022. They love the high level of care and service that they have come to depend upon. Our patients also say nice things about how friendly, helpful, and experienced our staff is, and how much we care about helping people of all ages.
We are a full-service dental clinic with dentists who have been caring for patients for a long time. Patients love coming to our clinic, and they tell their friends and family about it as well. We feel like our family is getting as big as their smiles because of this.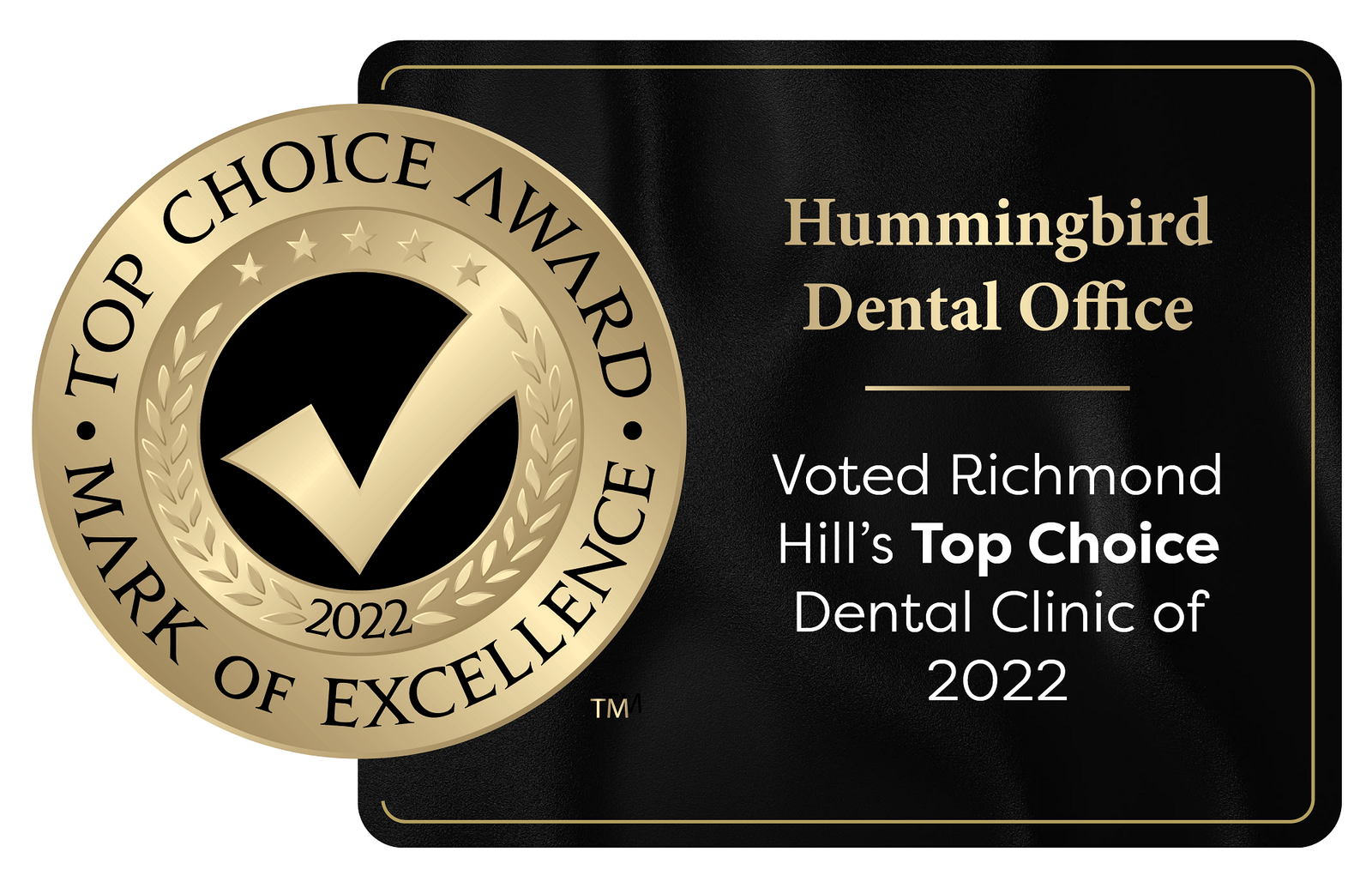 Our focus is to provide excellent dental care to all of our patients
As our patients come back to the clinic year after year, our staff and dentists are proud to be able to get to know each and every one of them on a professional level. At Hummingbird Dental, people in Richmond Hill get a dentist they can trust to give them great dental care.
We offer patients of all ages a full range of preventive, restorative, and cosmetic services. Our patients get great customer service, and when it comes to oral care, we can't be beat.